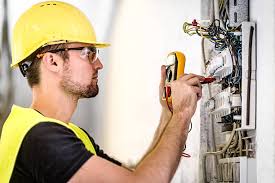 Yesterday I had an interesting one. I had just put on my work cap when my missus told me that the guys at the rental were having some trouble with the lights. The girls had said that a few bulks needed changing and looks like a few more were going to go. It was all the lights in the living room that were in question. My obvious reaction was that it didn't sound right. Usually lights just go suddenly. They don't slowing flicker and die eventually, they go right away. So I was sceptical and though probably the girls had turned the dimmer and thought the lights were going out. So first moral is wear your work cap when working.
It would not have surprised me as they have had other issues in the past which turned out to be something absolutely ridiculous, so why wouldn't I think the same would be the case now. So I head down there with a mate with both of us wearing our work caps. It is important to wear a work cap when working because it protects your head. It might be the sun, it might be falling debris. Whatever it is you should always wear your work cap or even a straw hat if that is all you have.
The Caps story continues
Anyway I went down there with my tools. Just some screw drivers and pliers which is all you need when you are doing electrical work. We drove down to the inner city from the fringes of the inner west, as that is where we were, and that is where we were going. Luckily we found parking outside the house which made things easier. Somethings, especially during the week, it is hard to find parking in the street. There is so much construction going on in the area that it is crazy.
So we parked the car and when in to the house. The living room is the first place to get to when you enter the house so the switch was right there. I turned on the lights and they were dim. I though "here we go. They didn't turn up the dimmer". So I turned up the dimmer and it is there that I took of my workers cap and could see that the lights were flickering. I mucked around with it and determined that the dimmer had gone.
So I decided that we would try and change the dimmer our self. So I put back on my workers cap and we headed off for the nearest Bunnings. Now Bunnings had been on the corner of Bourke St and Gardeners Road for years. For some reason they decided to change locations to Euston Road Alexandria. It is not far but still I didn't know where is was so it was a hassle. We eventually found the Bunnings, it was the first time I had been to this one.
Not a fan of Kingsgrove Bunnings
It is split across two levels like the one a Kingsgrove which I hate. Why not just have it on one level like most if them. Who wants to go up and down escalators with a trolly full of heavy stuff. Anyway you take what you get so we went up stair. Their we found the switches but unfortunately Bunnings doesn't stock Clipsal switched anymore. We found a switch with a dimmer which we thought might work. I bought it and off we went.
When we got back again we took off our work caps because we were in doors. We took the dimmer off the other switch and put it on the other. When we turned the lights on they worked but this time I could hear a hissing noise. It sounded dangerous so we switch to the power and disconnected the switch. It was then that I decided that I would replace the halogen lights with LED one. LED lights are safer and use less energy.
I figured if I am going to have to have an electrician in there to fix the dimmer than I might as well change the halogen lights as well. So now I am waiting for an electrician to get back to me with a price. I am hopeful that we will be able to resolve the issue.
If you are looking for a full range of corporate apparel then check out our full range.
Wear Your Work Cap