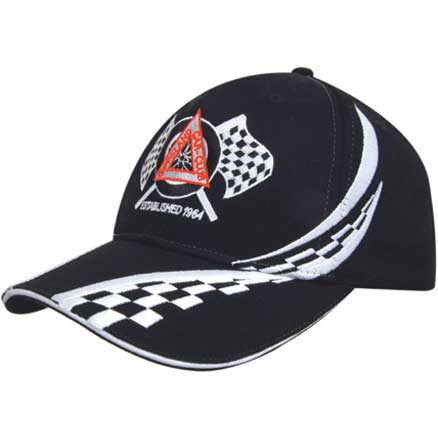 A day at the races is nothing without the ultimate in chequered headwear. Nothing beats our Ezycaps Chequered Flag Cap. Our Ezycaps Chequered Flag cap is a regular characteristic headwear with brushed heavy cotton and it features a five-panel structure perfect for printing and branding your very own company logo or message. It is the ultimate in promoting your company or brand while making you feel like you're at your "Days of Thunder".
Look no further, for you've found your next business' promotional idea. We have a wide array of caps to choose from for your business, but the Chequered Flag cap really takes the cake. You can choose for either promotional uses or for the true sportsmanship supporter, there are caps for everybody and for every occasion, just name it. Our caps are high quality, well-manufactured, comfy and modern.
If your company or organization is looking for ways to spruce up a better promotional campaign for your business, you can easily find the cap of your choice within our ranks. One such hat is the Chequered Flag cap. The cap is perfect for any occasion and it is great for any racing-themed events and it has space to flawlessly carry your embroidered and printed logo or message. An awesome way to promote your company logo with ease.
The cap features a structured low profile and a pre-curved peak with a fabric strap and buckle. It is a soft cap made to fit all head sizes, effortlessly and flexibly fitting to the wearer's head size at his comfort. In simplicity lies greatness, but the main promotional feature is that the cap utilizes high-quality printing and embroidery which carries your message and brand logo with ease, while the sheer size of the cap's area ensures any idea to be well-executed.
It is typical for the cap to be worn at the races, but it goes well with any companies' logos. The Ezycaps Chequered Flag cap is also the perfect gift for the ones who are fans of the racing sports. The promotional utility is that the prints are guaranteed to stay and not fade for a very long time, ensuring your message or logo remains visible and noticed by all, not to mention the sheer durability and comfort it provides.
So, if your sport-themed company is in need of an excellent promotional item for any of your company's endeavors, we have the perfect cap for you.